Hui `Ai Pohaku
The Vision
for the
Hui `Ai Pohaku
Our Halau (school) will be the central focus; all of our cultural sharing will flow from within this structure with...
Hawaiian
Knowledge, Understanding, Wisdom, Spiritual Values and Cultural Interaction through Word, Thought & Deed.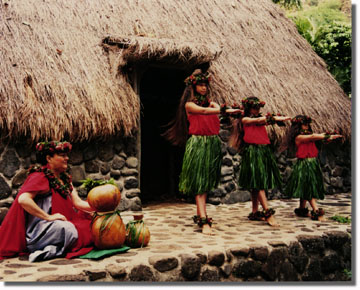 ---
A`apueo

A Hawaiian Focus for Upcountry Maui

Our mission is achieved through...
Education & Presentation

Hula Halau (Dance School)
Oli & Mele (Chants and Songs)
Mo`olelo & Mo`o Ku`auhau (History & Genealogy)
Sacred Sites & Archealogy
Cultural Relation of Native Plants and Animals

Conservation & Preservation ...

... of the Hawaiian Customs, Language, Hula, Art, and Spiritual Practices. as well as artifacts, archeological sites and places of cultural and spiritual significance.

This Sacred ...
area called A`APUEO is rich with historic archaeological sites and carved petroglyphs found nowhere else. Here is where the model image for the voyaging Hokule`a was first discovered. The Heiau of the area provides a serious classroom for all of us.

Our Environment...
is enriched through the practice of Hawaiian culture. It is our hope that traditional crafters, artists and all culturally significant practices will find growth and nourishment within the sacred space of ...

Hui `Ai Pohaku.
---
Maui Upcountry area. It will be a shining example of the Hawaiian Renaissance, the Wisdom and Knowledge of "Ka Po`e Kahiko" (The People of Old) and a deserved Legacy into the 21st Century and beyond for the knowledge of generations to come.

Charles Kauluwehi Maxwell Sr.
(Visit Uncle Charlie's Hawaiian Storyteller Website)

See Pukalani Hula Hale Keeping the flame alive for Maui's youth by Kirsten Atterbury
---
Hui `Ai Pohaku, Inc.
is a 501(c)(3) non-profit organization.

Tax-deductible contributions may be sent to:

P.O. Box 577
Makawao, Maui, Hawai`i 96768

Voice (808)572-8038
Fax (808)572-0602


http://moolelo.com/huiaipohaku