PAPA'S OLD KOA GUITAR
By ''Uncle Charlie''
Charles Kauluwehi Maxwell Sr.
The beginning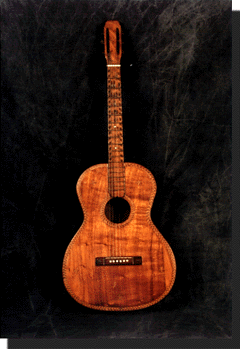 This is a story about a very old koa guitar that belonged to my father William Kupahu Maxwell.

When Papa past on, in the latter part of the 1960's, my brother and sisters divided whatever possessions he had. I had told them that when they were finished, just pile up what they did not want, and I would take everything to the dump or keep what they did not want.

When they called me that they were finished I had found that there were treasures in the pile of "rubbish." The first thing I noticed was Papa's old koa guitar. It was placed on the top of the pile and when I picked it up, I noticed that it had only one string, and a large crack in the back. Even though it had some scratches, the rich luster of the koa shown through. Different colors of koa were used around the sound opening and on the edges of the entire guitar. It was intricately inlaid in such a way that it formed patterns and designs on the front of the guitar.

I strummed on its single string and was amazed at the sound it created, knowing that it had a crack in the back. The sound triggered a memory of the time that I first heard my mother playing that guitar. I was about 4 years old

It was the early part of 1941, before the bombing of Pearl Harbor, that my mama and I were waiting for Papa to come home from work. I use to sit by the large water tank that was in the top front of our yard, looking towards the Makawao direction at the top of the hill from the highway that led to our home. My father was the County of Maui Engineer and drove a yellow Studebaker truck from the county. As soon as I would notice the truck coming over the hill, I would scream to the rest of the family "here comes Papa" and everyone would run out to greet him.

Well on this particular day, when Papa gave me his lunch can to open (he would always have a treat for me), I noticed that he was also carrying a koa guitar. He handed it to Mama and said,"dea, tune 'em up and play." My mother was an accomplished musician and played many instruments.

Papa had told her that he bought this koa guitar from a pa`ahao (prisoner) at Olinda Prison for $20.00 and it was gift for her. After tuning the guitar and playing a regular Hawaiian song, she tuned it for slack key. She played several numbers and gave the guitar to my father. He told her that if he played, he would have to have his customary glass of wine, which he did.

After dinner, the neighbors came over and sat on the front porch, as they did every evening, with all different kinds of instruments they would make wonderful music, until it got dark and everyone would go home.

I took the guitar back to Olinda Prison and had the back repaired and now it sounds really good. It is so wonderful that whenever I strum the guitar, the sound transcends me to the past while I was growing up in Pulehu on the slopes of Haleakala.
Music from the past
I remember one particular time that I picked up the guitar and strummed the keys I immediately went back in time and this time it was during the war years. As usual, we were on the porch with the neighbors playing music when three haole soldiers came into the yard and walked up to the porch where we were playing music. One had a guitar and another guy had a mandolin. One of them (Harry Leisure), told my father that they were not interested in the girls (my sisters) but that they just wanted to play music and listen to the beautiful Hawaiian ki ho`alu (slack key) music played on the koa guitar. My father told them that they were welcome any time and before you knew it, they were over our house playing music every chance they could. We would play the "oldies but goodies" like "You are my sunshine", "Irene Goodnight", "Tennessee Waltz", "Pistol Packing Mama", "Mares eat oats" and a whole slew of old Hawaiian Songs. My mother was very proud of the fact that I use to know every song that she would play on the piano. Sometimes we would go into our living room and she would play her piano and I would sing every song she played. I must have been about 6 or 7 years old. All these memories seem so vivid when I strum Papa's Old Guitar.
The memories of that period when there was no television in Kula and not everyone owned a car. The only means of entertainment was what you created yourself. It was a period where people would socialize with each other and take the time to care about each other's families.
The sounds of Papa's Old Guitar bring back memories recalling the times when the top entertainers of Hawaii use to come to my home during election times. Every district on Maui would have a political rally and if you had a lot of money as a candidate, you would hire the best musicians you could find to play at the rally before you spoke. Because Mama was friends with all the entertainers, like Lena Machado, John K. Almeda, Joe Keawe and much more, they would end up at our home whenever the rallies were in the upcountry area. My mother use to cook all kinds of food and of course the desert was music. Papa's Old Guitar would be brought out and played by these famous entertainers until early in the morning hours. They would get up after a big paina (special meal) and the music would be played again. I felt so fortunate to have been there during that period of time and be in the company of these famous people.
Whenever I feel lonesome and think of my growing up years in Kula, with the smell of laulau, Kalua Pig, Portuguese soup, fresh baked bread made in the old ovens, home made butter and fresh milk from our cows, I pick up Papa's Old Koa Guitar and strum.
Ho`iho`i Mai

Return